Archive for September, 2015
by admin on Sep.09, 2015, under Uncategorized
The folks over at Udemy created a great guide for getting started with Arduino: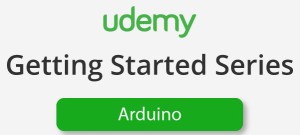 I've actually been a huge fan of Udemy for quite some time now.  My all time favorite instrcutor is Rob Percival.  I've been getting my hands dirty in iOS Swift Programming lately and having a ton of fun learning.  Been actually thinking about making my own Udemy course on the Arduino, which would be kind of like the style of my videos except they would be much more polished and the content would be planned out ahead of time, so that the course essentially takes you on a journey with the Arduino platform.  Maybe get into some of the lower level details as well, like setting up timers/interrupts, low power modes, etc….  What do you think?  Was thinking the course could be like $50 or so – seem fair?  Let me know kevin (at) kevindarrah.com
Comments Off

on Getting Started with Arduino
more...